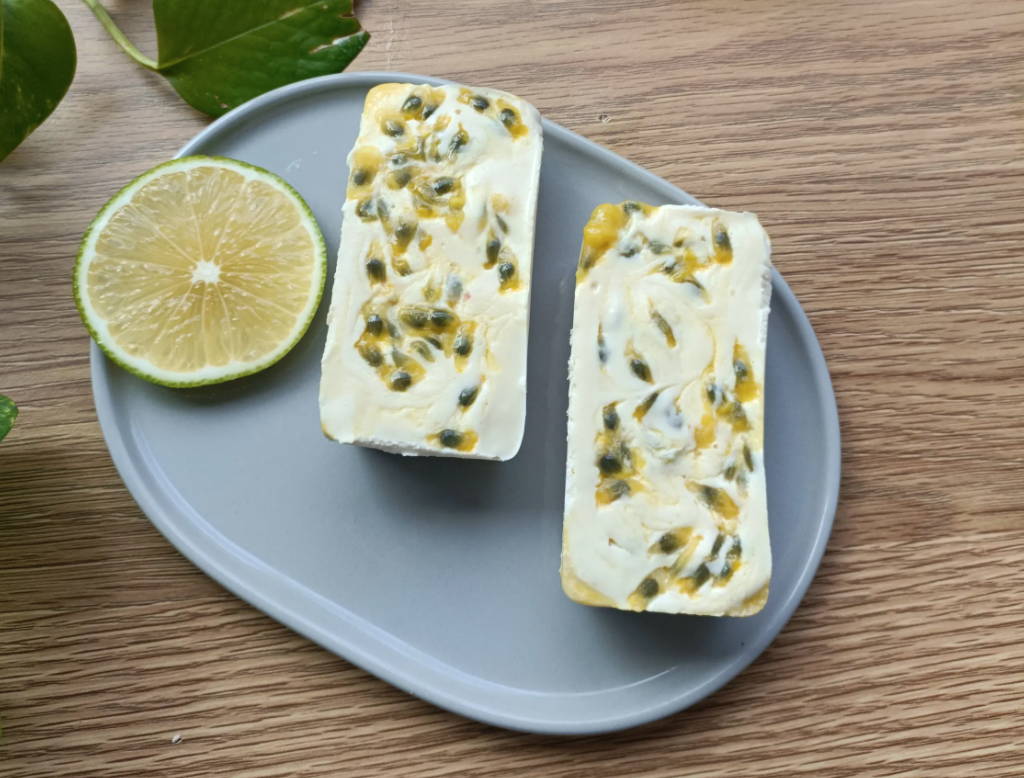 Skin-loving, gluten-free & dairy-free cheescake
 Crust:
1/2 cup almonds
1/2 cup dates
1 teaspoon lemon zest
1/2 cup shredded coconut
1 tablespoon coconut oil
Instructions:
Blend all ingredients in a blender until they stick together with the press of your finger. Then scoop out into cheesecake tin or individual moulds. With individual moulds I portioned out 1 tablespoon in each mould. Gently press until base is firm and refrigerate.
(You can use any left over mixture as bliss balls 😍)
Base:
1 cup soaked cashews
2 tablespoons of Wild Marine Collagen
3/4 cup lemon juice
2 tablespoons lemon zest
1/2 cup coconut oil
1/3 maple syrup
Splash of vanilla extract
Instructions:
Blend all ingredients in a blender until smooth and creamy, pour into moulds or tin.
Top cheesecakes with passionfruit, I used 4 passionfruits today but entirely depends on the size of the passionfruit add to your liking and freeze for minimum 4hrs. If refrigerated overnight bring it out to thaw for 15-30 minutes before serving & enjoy!!
Use Code MARINE20 for 20% off Wild Marine Collagen
This is by far the best collagen powder that I have ever tried! It's completelytasteless & dissolves perfectly in my morning coffee. I've noticed changes in my hair, skin & nails in just a month"
~ Jan L
Written by
an anonymous user
on
Customer Reviews
based on reviews
There are no customer reviews yet.
Thank you for submitting your review. Once it is approved, your review will show up in the list of reviews.
Submitting your review failed. Please try again.
A friend recommended Deeto to me, and can I just say, my life has literally changed for the better since I started using these incredible products. I feel amazing. Thank you!
~ Anne T.
You guys just earned a customer for life! I've never felt better than I have over the last couple of weeks. I take these three beautiful products every day & will continue to do so!
~ Kimmy P.
or make 4 interest-free fortnightly payments with
Use Code: MARINE20 for 20% off 👇

✓ Pure & Sustainably Sourced
✓ Highly Absorbable
✓ Odourless & Tasteless
✓ Supports Skin & Joints

🇦🇺 Proudly 100% Australian made & owned.
Our Daily Wellness Bundle contains 3 wholefood supplements that have been scientifically-formulated to;
✓ Optimise your daily nutritional intake.
✓ Support healthy gut & bowel function.
✓ Boost antioxidant activity.
✓ Promote balanced hormones.
✓ Support the body's natural detoxification systems.
🇦🇺 Proudly 100% Australian made & owned.
Our Wild Marine Collagen is...
✔️ Pure & Sustainably Sourced:Our marine collagen is processed in France from 100% MSC certified sustainable, wild-caught cod skin. This is otherwise a waste product of the fishing industry making it an incredibly sustainable raw material!
✔️ Highly Absorbable:Our marine collagen peptides are activated through a hydrolysation process which simply put, is a process where enzymes break down the collagen into smaller molecules. This allows an easier, faster uptake and transportation of the collagen peptides to the skin, bones and joints for the synthesis of new collagen.
✔️ Purity Guaranteed:Every batch is tested for heavy metals, purity and safety to pass the highest standards of European Regulations.
✔️ Odourless & Tasteless:Our collagen is odourless, tasteless, heat stable & dissolvable.
A blend of Turmeric*, Ginger*, Black Pepper* in vegetable cellulose capsules.
*Certified Organic Ingredient
Take 3 capsules daily with food. Can be taken at any time during the day.

Each jar contains a 30 day supply.
Q. What is the best way to store BrightFire?
A. The best method of storage is in a cool, dry location, and properly closed.


Q. Is this product vegan?
A. Yes, all of our products are completely vegan friendly. We use the purest ingredients possible.


Q. Is it safe for children?
A. Yes, our products can be taken by children. We recommend halving the serving size for little ones.


Q. How much curcumin does each capsule contain?
A. Our Turmeric is always between 3-5% curcumin by weight.
This means that every capsule contains at least 18.7mg of curcumin.
That isn't a particularly high dose of curcumin in and of itself, however our curcumin is extremely bioavailable.
Unlike other turmeric products, we use the whole turmeric rhizome. Studies show that tumerone and the other essential oil components of turmeric vastly improve the absorbability of curcumin, and in addition to curcumin, whole food turmeric also contains other bioactive constituents such as zingerene, cineole, eugenol, limonene, borneol, bornanol and p-coumaric acid.
What this means is that you still get the efficacy of curcumin without needing to take such a high dose.


Q. Do your products contain any known allergens?
A. There are no ingredients in our products that trigger any known major allergens, however, all of our products are processed in a facility that also handles peanuts, tree nuts, grains and seeds.
Why Take Wholefood Supplements?
We believe that there's no way to 'out-supplement' a poor diet.
However with our busy lives and modern industrialised food supply, sometimes a great diet just isn't enough.
Most of the food we eat today is grown in nutrient-depleted soils and lacks genetic diversity, so adding trusted wholefood supplements to your wellness routine is a great way to ensure that you're getting the variety of nutrients that your body needs to function optimally.